Coast Motor Werk – Your Independent Dealership Alternative for Costa Mesa BMW Repair, Service & Maintenance
---
BMW drivers are different. (In a good way.)
In a world overloaded with Civics and Priuses, Orange County BMW drivers choose to treat themselves to a fine piece of precision German engineering.
If you're savvy enough to go from Point A to Point B in an Ultimate Driving Machine™ (or an Ultimate Electric Driving Machine), you're smart enough to give your BMW the care and attention it deserves.
Coast Motor Werk is the place to do that.
We have been helping BMW and MINI drivers in Southern California treat their cars right since 2005.
The CMW Experience
Coast Motor Werk was created to be different than your usual appointment at the dealership.
You know what that's like.
The hours wasted waiting on old, suspicious couches. The mechanics who look like they would rather be anywhere else in the world than talking to you. The unhappy feeling that you'll be back to do the whole process over again soon.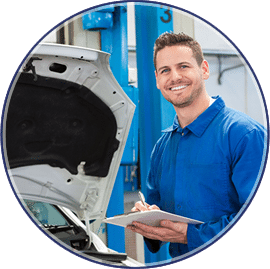 As the Dealership Alternative, the CMW Experience starts with our excellent mechanics. When you arrive, our team not only pays attention to what your car needs, they're happy to help. And they have the knowledge to get your repairs done right, which is why we back our work with an industry leading three-year or 36,000-mile limited warranty.
Because our mechanics are so talented, most of our repairs are finished the same day. If you have any questions about what's happening under the hood, we'll be happy to answer them. We'll even save your old parts to show you what went wrong.
Finally, we want all of our visitors to be comfortable, which is why each CMW location is outfitted with cozy waiting rooms, luxurious bathrooms, and free Wi-Fi. And if you have places to be while your car is getting its TLC, we offer complimentary shuttle service to any local location.
Coast Motor Werk's 7 Core Values:
Honesty

Competence

Commitment

Integrity

Convenience

Quality

Value
What Do Coast Motor Werk Customers Think?
"Coast Motor Werk is by far the best place to service your BMW. Even if it's under dealership warranty I'd highly recommend bringing in your car for services. If it's a costly repair they will give you a printout of the diagnostics code for your reference at a BMW dealership.
"The staff is very friendly and filled with knowledge on how to truly fix your car. Everyone there will talk to you and show you everything you wish to see regarding your vehicle. I have never felt like I was getting overcharged or receiving any surprise charges like at most BMW service shops.
"Very honest and I intend to be a customer as long as I own a BMW. I'd compare them to a great barber, I'll make myself an appointment and wait because I don't trust anyone else to do the work to my standards and expectations."
— Dave L, Newport Beach, Calif.
Click here for more testimonials from our 5-star Yelp page.
Coast Motor Werk | Costa Mesa BMW Repair