For a while now, BMW has offered free scheduled maintenance on new cars. FREE! Sounds great, right? Who doesn't love free?
Of course, as Grandpa used to say, "Nothing in life is free." (…or maybe it was "freedom isn't free." Grandpa had a lot of sayings.) Anyway, you get the point. Even "free" stuff comes with a price.
We've seen the results of this so-called "free" maintenance at Coast Motor Werk and other BMW specialty shops, and they aren't pretty. Many times BMW owners put off maintenance until much later than they should because they are following a schedule to keep their car under warranty. The warranty doesn't cover non-scheduled maintenance, however, so our Bimmer drivers either go against their better judgment or wait, unknowingly, for their next "free" maintenance date.
Let us be clear: We're not blaming BMW owners for this. Car owners obviously trust that the manufacturer is going to recommend what is best for their cars. Right? Well, you might be surprised to discover that as magnificent as your BMW might be, no car is immune to the damaging effects of deferred maintenance.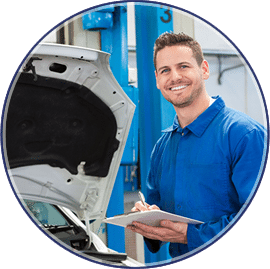 We've seen enough BMWs performing beautifully well beyond their anticipated lifespan to believe that every BMW we encounter can stand the test of time. All it takes is a little education and a little proactive TLC on your part.
Instead, we want to increase your car's efficiency, performance, and longevity. We are all about treating your BMW with respect, taking excellent care of it, and extending its life as long as possible.
BMW scheduled maintenance services are broken up into the following:
Intermediate Oil Service: The typical indication for an oil/filter service on a modern BMW can be between 12-18K miles! We recommend an oil & maintenance service every 5-7K miles or every 6 months.
Oil & Maintenance Service: This service includes an oil change with filter and a complete vehicle check, which includes:
brakes
indicator lights
rubber belts and hoses
engine coolant
steering linkage
suspension components
Your technician will also adjust tire pressure, inspect for fluid leaks, verify your wiper blades and wiper fluid, electrical system, and the dashboard warning lights.
Inspection I: Also known as the Minor Service. On 1986 – 1998 models, it is recommended at 20,000, 60,000, and 100,000 miles. On 1999 and later models, it is recommended at 60,000, 120,000, and 180,000 miles.
Inspection II: Also known as the Major Service. On 1986 – 1998 models, it is recommended at 40,000, 80,000, and 120,000 miles. On 1999 and later models, it is recommended at 60,000 and 120,000 miles.
Ron Inchausti
Owner, Coast Motor Werk
The True Cost of Deferred Maintenance [Updated] | Coast Motor Werk